Overview:
Nameless Sprite Editor 2.X
is a tool used to thoroughly edit the graphics in
ALL
GBA ROM's.
With a combination of unparalleled features, a comfortable interface and limitless expandability, NSE provides unprecedented power.
Still being actively developed NSE 2.X is what you need
- and best of all... It's Free!
Region Support: Universal (Can edit any GBA game)
This tool is currently written in C# and will
require the latest .net framework
to function properly.
-Link12552
Version: Beta 2.0.2
Features:
Edit the graphics stored in the ROM
Super Fast load AND draw times vs NSE Classic
A navigator with dynamic preview
Grayscale
Full support for 16 and 256 color graphics
Full support for standard and Lz77 compressed data
Real time turbo decompression
Perfect, Nintendo-Quality, Compression (NSE 2.X will shrink data to as small a size as possible)
Re-pointing functions
ADVANCED Re-pointing with select-able offsets
SAFETY Re-pointing (offsets will end in multiples of 4)
Full Expanded ROM support (up to 32MB)
A BookMarking engine (unlimited bookmarks and folders)
Support for multiple BookMark files (*.nbmx)
Full NSL (Nameless Sprite Library *.nslx) support
Export sprites as indexed Bitmaps or store entire collections in a NSL
Import data from BMP's, PNG's, NSL's, ACT's (all with support for 16 an 256 color support)
Import ACT's from VBA to make editing 256 color images practical
Saving with free-space, auto-abort, SAFETY Re-pointing, and automagic BookMark correction!
Edit multiple sprites at once
Pencil, Re sizable Brush, Fill-Bucket, and Eyedropper
Real-time Palette Editing
X and Y Rulers
10x Zoom Ctrl +Scroll or Ctrl+/-
Undo and Redo incorporation (Ctrl+z and Ctrl+shift+z)
Color swapping(ctrl) and alternating(alt) (click in palette editor)
Insert/Inject Image and palette data (normal or compressed)
PLUGINS!!! Make NSE do anything! Plug-ins are written in any .net language (C#, C++, J#, VB.net) and have full access to all NSE libraries
Random acts of kindness, you'll see
A ton more and more on the way!
Action Shots:
The New Interface:
The Navigate Window: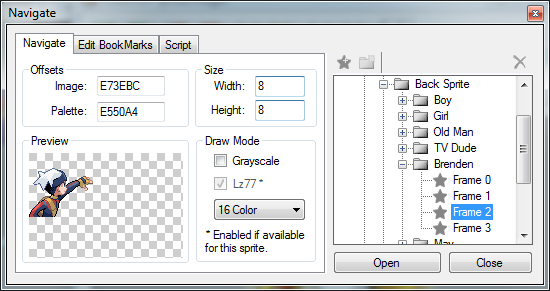 Importing a Nameless Sprite Library:

The Palette Tool: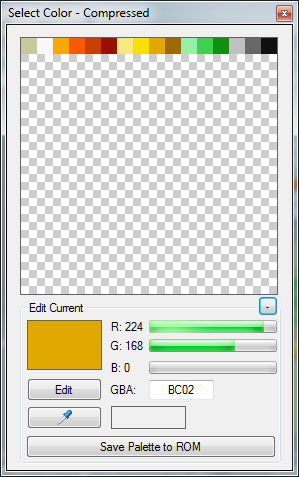 Other:
Files
Compressed Folder
, Size: 139.83 KB
© 2012 www.lastlink.tk
Pokémon characters and images belong to Pokémon USA, Inc. and Nintendo. This website is in no way affiliated with or endorsed by Nintendo, Creatures,
GAMEFREAK, The Pokémon Company, Pokémon USA, Inc., The Pokémon Company International, or Wizards of the Coast.